X3028 - Psychobiology
Current Academic Year
X3028 - Psychobiology
Abnormal psychology - William J. Ray 20181506333354,9781506333359

Book Recommended This book is recommended as a supplement to the readings in this list. It is not required reading, but would be a useful resource for further reading.

Lecture 1 - Introduction to the Module

1 item

Welcome to Psychobiology. In this module we will be examining the biological foundations of human behaviour. Throughout the module we will be using current research to examine topics of great importance and this Talis list will guide you through the reading you need to explore these issues. In this first lecture you will be introduced to the module and be provided with all the information you need to complete this course successfully. See you in class!

Lecture 2 - Human Behavioural Ecology and Evolutionary Psychology

3 items

This session will consider ecological and evolutionary perspectives on human behaviour.

Lecture 3 - Genetics and Psychopathology

2 items

In this class, we will cover the basics of genetics and psychopathology, and build on the evolutionary perspective set out in the previous week.

Lecture 4 - What is abnormal neuropsychology?

4 items

Lecture 5 - The Neurobiology of Depression

4 items

In this class we will discuss the neruobiological basis for Major Depressive Disorder (MDD), including causes, treatments and medications.

Lecture 6 - Stress, Trauma and Psychopathology

3 items

This week we will cover stress, including trauma and PTSD.

Lecture 7 - Addiction and Substance Abuse

3 items

In this class we will cover genetic, epigenetic, and neurobiological factors associated with addictive disorders.

Lecture 8 - Alzheimer's Disease

4 items

This week we will discuss Alzheimer's Disease, a neurocognitive disorder.

Lecture 9 - Perspectives on Abnormal Psychology

2 items

In this final session, we will look back on the module to tie together important perspectives on this topic. This is a discussion seminar, and students are expected to have completed the reading and to participate in the discussion, in order to gain the most from this module. Guidance for both assessments will also be provided.

Creative Commons Attribution 3.0 Licence
Profile Required
Reading intentions and notes are stored against your user profile. Please create a profile to use this feature.
My notes
You must be logged in to add a note
What are item notes?
You can use item notes to make personal notes on any of your reading items. Notes are private to you and will not be shown to other users.
You can review your item notes from the list, the item page or from your profile page.
---
How do I create an item note?
To make notes, first you must be logged in. Once logged in, simply click Add note? next to the list item you wish to make notes on. You can also make notes at the bottom of every item's detail page.
Your note will be saved automatically as you type.
Have you read this?
You must be logged in to set a reading intention
What are reading intentions?
Setting up reading intentions help you organise your course reading. It makes it easy to scan through your lists and keep track of progress. Here's an example of what they look like: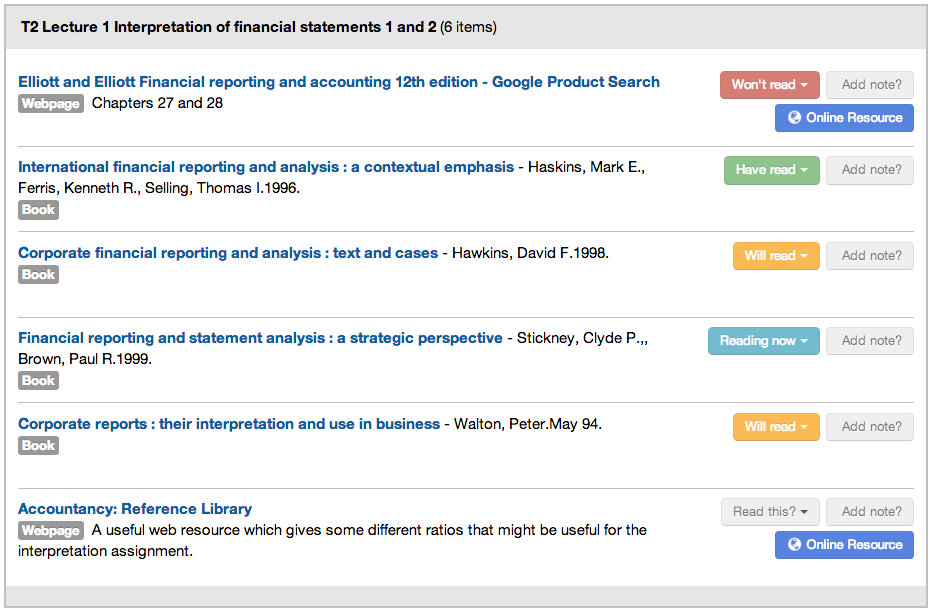 Your reading intentions are also stored in your profile for future reference.
---
How do I set a reading intention
To set a reading intention, first you must be logged in. Once logged in, click Read this? next to the list item you wish to set a reading intention for.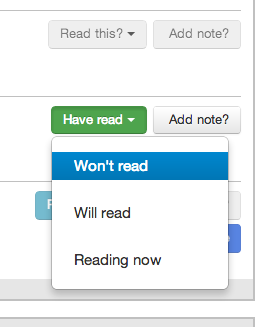 You can also set the reading intention from every item's detail page.