R1046 - Team and Team Working (Interprofessional Education 1)
Current Academic Year
R1046 – Team and Team Working (Interprofessional Education 1)
Introduction - Week 2

9 items

These resources provide some background perspectives on team working and interprofessional working/learning.

Reflection - Week 3

21 items

Roles & individual involvement - Week 4

6 items

Margaret Heffernan: Why it's time to forget the pecking order at work 16/6/2015

Audio-visual document When reviewing TED videos, it is important to keep an open mind - to pay attention to the message of the speaker, and to reflect on whether or not their claims, perspectives or arguments resonate with your experiences or practices. These resources are to catalyse thinking and discussion, rather than an endorsement of fact or truth. This is one perspective of team working that constructs effectiveness based upon research on 'super chickens.'

Communication - Week 5

9 items

Conflict & collaboration - Week 5

9 items

Feedback - Week 6

3 items

Providing and receiving feedback is a professional (and personal) reality for any type of interpersonal working.

Effective and professional team working - Week 7

16 items

Learning & Education

13 items

The material here may be good supplemental perspectives to the overall vision and context for interprofessional working / interprofessional education / interprofessional learning.

Teamwork in Healthcare 4/3/2007

Audio-visual document This is a film of health care students from Canada reflecting on their IPE experiences.

This is not a central focus of IPE1, however there may be some resources of interest that you wish to consult over the course of your first year studies.

Creative Commons Attribution 3.0 Licence
Profile Required
Reading intentions and notes are stored against your user profile. Please create a profile to use this feature.
My notes
You must be logged in to add a note
What are item notes?
You can use item notes to make personal notes on any of your reading items. Notes are private to you and will not be shown to other users.
You can review your item notes from the list, the item page or from your profile page.
---
How do I create an item note?
To make notes, first you must be logged in. Once logged in, simply click Add note? next to the list item you wish to make notes on. You can also make notes at the bottom of every item's detail page.
Your note will be saved automatically as you type.
Have you read this?
You must be logged in to set a reading intention
What are reading intentions?
Setting up reading intentions help you organise your course reading. It makes it easy to scan through your lists and keep track of progress. Here's an example of what they look like: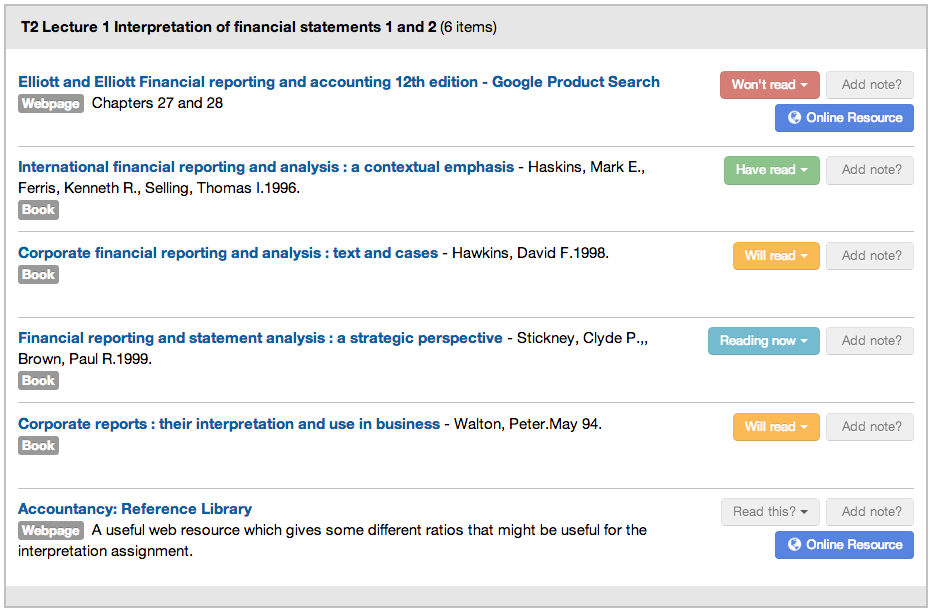 Your reading intentions are also stored in your profile for future reference.
---
How do I set a reading intention
To set a reading intention, first you must be logged in. Once logged in, click Read this? next to the list item you wish to set a reading intention for.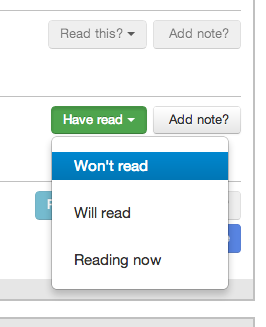 You can also set the reading intention from every item's detail page.